Natalia Umansky Casapa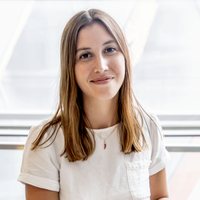 University College Dublin (Ireland)
School of Politics and International Relations
Contact data
Biography
Natalia is a second year PhD student at University College Dublin, where she works under the supervision of Dr James Cross. She has a BA in International Studies by the Universidad Torcuato Di Tella in Buenos Aires and a Master's Degree in International Security by IBEI. Her PhD project consists of an interdisciplinary study of securitization on Twitter, which adds to the literature on inteernational security, big data, social media and quantitative text analysis. Her research interests also include topics such as migration and terrorism.
Background and education
(2015-2016) Master's in International Security, Institut Barcelona d'Estudis Internacionals
(2014) BA in International Studies, Universidad Torcuato Di Teella
Awards
2018-2022. 

SPIRe Graduate Scholarship

2016. Final research project awarded with diploma and qualification of Honor and Distinction. Second best dissertation in the Master's in International Security. Link
Research
Research interests
Securitization
Social Media
Quantitative Text Analysis
International Security Theory
Research projects
N. Umansky Casapa "Repost and Like: Securitization Theory in a Digital World" 

J. Cross, D. Greene and N. Umansky Casapa "Talk the Talk: Exploring conflict in European Central Bank Governing Council speeches using speaker-topic networks."      

N. Umansky Casapa and E. Murphy "Alternative Sites of Securitization: Women and the #NiUnaMenos Movement" 

N. Umansky Casapa "Terrorist Attacks and the Securitization of Migration: An Analysis of the UK and Spain" 
Lectures and conferences
"Repost and Like: Securitization Theory in a Digital World". Paper presented at the 2019 ECPR Joint Sessions, Mons.
Co-organizer, Quantitative Text Analysis Dublin (QTA-DUB) Workshop 2019.