Master's in International Relations
Syllabus Part Time
The content of the part-time Master's in International Relations is basically the same as that of the full-time programme, but the syllabus is carried out at a different rate, since the programme lasts for two academic years (four semesters). The flexible part-time master's enables students to combine their studies with other activities. Students have the possibility to participate in an academic exchange programme or to do an internship in their second year of study.
During their second semester of studies, students can choose one of the following five pathways:
In addition, IBEI is offering concentrations, suggested groups of four or five elective courses and a pathway course that combine to give a clear focus on one policy area or region. Students may choose how many of the electives to take, and may also choose freely from across all of the electives on offer. 
Conflict in Global Politics

Pathway:  
Conflict, Threats and Violence in Global Politics
Semester 1 elective:

Nationalism and Ethnic Conflicts

Semester 2 electives:          
Governance and Diplomacy

Pathway:  
Global Governance
Semester 1 elective:        

Semester 2 electives:  

Science Diplomacy
The Politics of the MENA Region

Pathway: 

Mediterranean Area Studies                            

Semester 1 electives:

Semester 2 electives:  

                                                            
The part-time Master's in International Relations is structured into three semesters of compulsory courses and electives (studying a total of 50 ECTS credits), taught by highly-qualified academics linked to the three universities that jointly offer the degree, as well as to other prestigious international institutions, and a fourth semester dedicated to carrying out the Final Research Project (10 ECTS credits).
Students will obtain 15 ECTS per semester. The total of the 60 ECTS is allocated as follows:
Compulsory courses: 24 ECTS (depending on studies carried out previously, it may be possible to exchange one or more compulsory courses for an equivalent or higher number of credits in electives)
Pathway elective courses: 6 ECTS (At least three pathway core courses will be offered during the afternoon schedule).
Electives: 20 ECTS. A minimum of 40 ECTS in electives will be offered in the afternoon schedule, throughout the two years of the programme.
Final Research Project: 10 ECTS 
Syllabus (two-years, part-time option)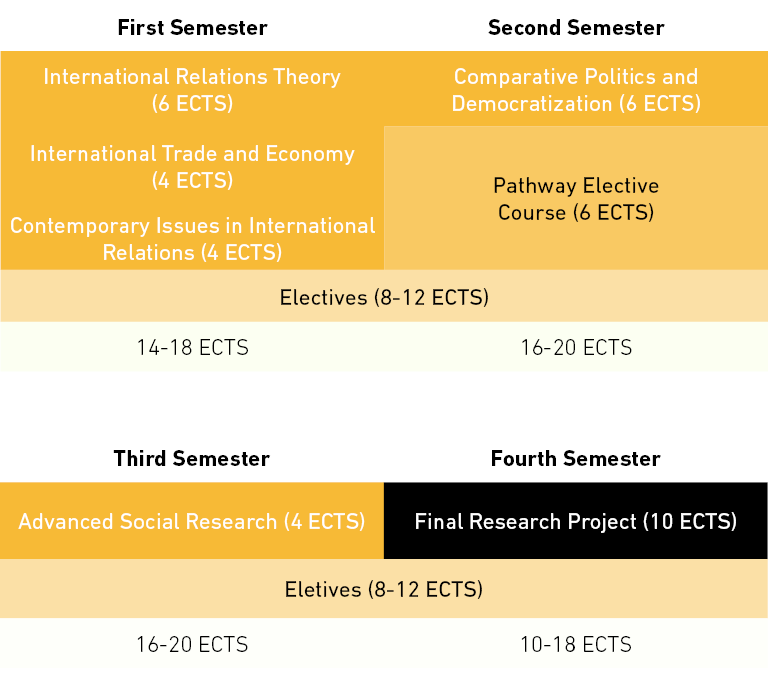 For more information about the course enrolment process, please click here.
Timetable
Classes take place in the afternoon from 4pm to 9pm (September to June).
At least three of the pathway elective courses will be offered in the afternoon schedule. Part-time students can also choose electives taught in time slots other than those offered during the afternoon period. 
To apply for this programme, please complete the online application form.
Application form