Gabriel Garroum Pla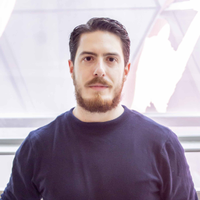 Margarita Salas Postdoctoral Researcher, UPF
Contact data
Biography
Gabriel has a PhD in War Studies (King's College London, July 2021). Gabriel is an interdisciplinary researcher specialized in International Relations and Middle East Politics. Born into a Syrian-Catalan family, his main research areas include political violence, critical IR theory, contemporary security issues, and critical geopolitics. Also he often contributes to different Spanish and International media outlets regarding the politics of the Middle East (for a list of contributions see reorientats.com).
He is also a member of the Research Centre in International Relations (King's College London) and co-director of "Això era casa meva/This Was My Home "(2019), a documentary on the Syrian civil war premiered at the British Film Institute. He has lived in Spain, the United Kingdom, Turkey, and Lebanon.
Background and education
(2014) MSc Middle East Politics, School of Oriental and African Studies (SOAS)
(2012) BA Political Science, Universitat Pompeu Fabra (UPF)
Awards
2016-2020. 

Doctoral grant awarded by the Economic and Social Research Council (ESRC) of the United Kingdom.
Research
IBEI Research Clusters
Invited lectures and conference talks
Gabriel Garroum, "Whose Aleppo? The Politics of Representing, Experiencing, and Researching the City at War", presented at the Millennium Annual Conference, 19-20 October 2019, London, United Kingdom.
Gabriel Garroum, "The Everyday Impact of Foreign Presence in Wartime Urban Spaces: Lived Experiences and Political Subjectivity in Aleppo and Damascus", presented at the International Studies Association (ISA) Annual Convention, 27-30 March 2019, Toronto, Canada.