Joan Clos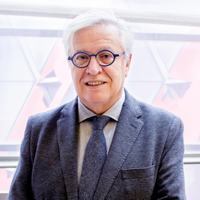 Contact data
Biography
Dr. Joan Clos is the former Executive Director of the United Nations Human Settlements Programme (UN-Habitat), at the level of Under-Secretary-General by the United Nations General Assembly. He held this office from October 2010-December 2017. During his mandate, Dr Clos led the process of elaboration of the New Urban Agenda, and he was appointed Secretary-General of the United Nations Conference on Housing and Sustainable Urban Development (Habitat III).
Born in Barcelona on 29 June 1949, he is a medical doctor with a distinguished career in public service and diplomacy. He was twice elected Mayor of Barcelona, serving two terms from 1997 until 2006. He was Minister of Industry, Tourism, and Trade of Spain between 2006 and 2008. Prior to joining the United Nations, he served as the Spanish Ambassador to Turkey and Azerbaijan.
He is a medicine graduate from the Universidad Autònoma de Barcelona (UAB), and specialized in Public Health and Epidemiology at the University of Edinburgh (Scotland).
Dr. Joan Clos then joined the Barcelona Municipal Government as the Director of Public Health in 1979. As a city councillor between 1983 and 1987, he earned a reputation for improving municipal management and for urban renewal projects, notably managing the renovation of downtown Barcelona's Ciutat Vella district.
From 1990 to 1994, he was the Deputy Mayor in charge of finance and budgeting, playing a key role in preparations for the 1992 Olympic Games in Barcelona. Dr. Joan Clos is also widely credited with inspiring far-reaching investment programmes for Barcelona.
One of the most ambitious was the "Barcelona@22" programme, which gave the city's dilapidated industrial zones a facelift. In 2004, one of these newly refurbished neighbourhoods near the old dockyards was chosen as the site for the second gathering of UN-Habitat's World Urban Forum, the premier global conference on cities.
At the international level, in 1998 Dr. Clos was elected President of Metropolis, the international network of cities. Two years later, he was elected President of the World Association of Cities and Local Authorities (WACLAC). Between 2000 and 2007, he served as the Chairman of the United Nations Advisory Committee of Local Authorities (UNACLA). And between 1997 and 2003, he was member of the Council of European Municipalities and Regions (CEMR).
Dr. Clos received a number of awards, including a gold medal from the Royal Institute of British Architects in 1999 for transforming Barcelona. In 2002, he won the UN-Habitat Scroll of Honour Award for encouraging global cooperation between local authorities and the United Nations.
In 2016, he was honored with the Jane Jacobs Medal by the Rockefeller Foundation in recognition of his leadership with the New Urban Agenda.