Andreu Olesti-Rayo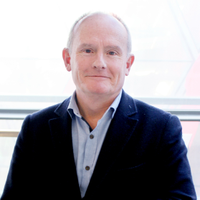 Professor of International Public Law, UB
Department of International Public Law and International Relations
Contact data
Biography
Since June 2003, Professor in Public International Law at the University of Barcelona.
His main area of interest is European Union law. Within this area, he has focused his research on the following issues: the free movement of persons and several of its aspects, including EU migration policy; EU foreign relations; and the economic and monetary union.
He is head research fellow of the project "El control democrático y la tutela de los Derechos en la Unión Econonómica y Monetaria" (DER2015-65003-P), granted by the Spanish Ministry of Science and Education. "El ejercicio de la competencias comunitarias entre la Unión Europea y sus Estados miembros: técnicas jurídicas de coordinación", Ministry of Science and Innovation (DER2011-23492) 2012-2014). He was visiting lecturer at the Universidad Nacional Autónoma de Nicaragua in 1999 and, the Universidad de Puerto Rico in 1997 and 2009.
He is currently member of the Directive board of the Barcelona Institute of Public Law (www.idpbarcelona.net) and since 2009 and the Editor of Revista Electrónica de Estudios Internacionales (www.reei.org). 
Background and education
(1991) PhD Law
(1986) Bachelor Economics
(1985) Bachelor Law
Research
Research interests
EU external relations
Economic and Monetary Union
Free movement of people and European migration policy
Selected publications
2015.

La coordinación de los Estados miembros de la Unión Europea en la lucha contra el blanqueo de capitales.

In: Javier Donaire Villa y Andreu Olesti Rayo.

Técnicas y ámbitos de coordinación en el Espacio de Libertad, Seguridad y Justicia.

Marcial Pons

,

pp: 229-254.

2015.

La financiación del presupuesto de la Unión Europea y la necesidad de revisar el sistema de recursos propios.

Revista General de Derecho Europeo,

nº 37

:

1-45

2015.

La rendición de cuentas en los instrumentos de supervisión financiera de la Unión Europea.

In: Gregorio Garzón Clariana.

La democracia en la nueva gobernanza económica de la Unión Europea.

Publisher: Marcial Pons

,

pp: 151-177.

2014.

La estabilidad financiera en la Unión Europea y la supervisión prudencial de las entidades de crédito.

Revista de Derecho Comunitario Europeo,

48

:

403-442

2013.

La acción exterior de la Unión Europea en Kosovo.

Conflictos, Nuevos Colonialismos y Derechos Humanos en una Sociedad Internacional en crisis.,

Vol. XIII. Anuario de los Cursos de Derechos Humanos de Donostia-San Sebastián, Editorial Thomson Reuters/Aranzadi

:

411-451

2013.

Las excepciones por razón de orden público, salud y seguridad públicas en el Acuerdo de Asociación con Turquía.

In: J. Forner Delaygua; C. Gonzalez Beilfuss; Viñas Farré, R..

Entre Bruselas y La Haya. Estudios sobre la unificación internacional y regional del Derecho internacional privado. Liber Amicorum Alegría Borras.

Editorial Marcial Pons

,

pp: 625-640.

2013.

Crisis y coordinación de políticas económicas en la Unión Europea.

53-74

2013.

Libre circulación de personas: desplazamiento y residencia.

In: dirigido por José Maria Beneyto Pérez y coordinado por Jerónimo Maillo González-Orús y Belén Becerril Atienza.

Tratado de Derecho y Políticas de la Unión Europea. Tomo VI: Mercado Único Europeo y Unión Económica y Monetaria.

pp: 325-387.

2012.

La unión monetaria y la crisis financiera del Euro.

In: coordinado por Mariano J. Aznar Gómez; editores: Jorge Cardona Llorens, Jorge Antonio Pueyo Losa, José Luis Rodriguez-Villasante, Jose Manuel Sobrino Heredia.

Estudios de derecho internacional y de derecho europeo en homenaje al profesor Manuel Pérez González. Volumen II.

Editorial Tirant Lo Blanch

,

pp: 1731-1750.

2012.

El espacio Schengen y la reinstauración de los controles en las fronteras interiores de los Estados miembros de la Unión Europea.

Revista d'Estudis Autonòmics i Federals,

15

:

44-84