Eduard Soler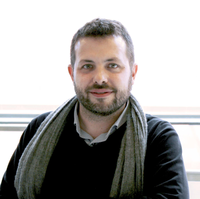 Barcelona Centre for International Affairs
Contact data
Biography
He has worked as head researcher at the Barcelona Centre for International Affairs (CIDOB) since 2005. He is a lecturer at the IBEI and the Universitat Autònoma de Barcelona (UAB). He is a political scientist and holds a PhD in International Relations from the UAB. He was a visiting fellow at Bogaziçi University in Istanbul and at the Centre for European Policy Studies (CEPS) in Brussels. From December 2009 to November 2010, he worked as an advisor to the Directorate-General for the Mediterranean, the Maghreb and the Middle East of the Ministry of Foreign Affairs and Cooperation. He has worked on several European research projects, especially on issues related to European policies in the Mediterranean and the security cooperation agenda. He publishes regularly in Spanish and international journals and he works with media outlets such as the Spanish newspapers El Periódico de Catalunya, el País and La Vanguardia.
Background and education
Universitat Autònoma de Barcelona
Research
Research interests
Turkey
Security in the Mediterranean
Euro-Mediterranean relations
Selected publications
2019.

La batalla de Estambul.

CIDOB opinión,

nº576, Mayo 2019

Link

2012.

Europa y el Mediterráneo: año cero? In Política Exterior Vol. 26, Nº 145, pp. 130 -140.

2011.

La UE y Turquía: la adaptación a un mundo multipolar, in Cuaderno de Estrategia, n. 151, Madrid: IEEE/CIDOB, pp. 255-288..

2011.

Spain and the Mediterranean from Transatlantic Perspective, in ALIBONI et al. "Southern European and the Mediterranean: National Approaches and Transatlantic Perspectives", GMFUS-IAI Mediterranean paper series, pp. 64-79..

2011.

European Security Practices vis-à-vis the Mediterranean. Implications in Value Terms, DIIS Working Paper, n. 14..

2011.

The EU, Turkey and the Arab Spring: From Parallel Approaches to a Joint Strategy? in TOCCI et al. "Turkey and the Arab Spring: Implications for Turkish Foreign Policy from a Transatlantic Perspective", Mediterranean Paper Series, October 2011. Washington: GMFUS..

2011.

The Western Mediterranean in 2020: Scenarios for regional security and cooperation after the Arab uprisings, Mediterranean Paper Series, December 2011 Washigton: GMFUS..
OTHER COURSES