Irina Ciornei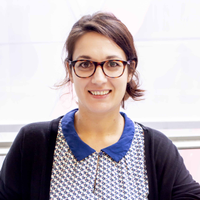 Professora ajudant Ramón y Cajal
Coordinadora acadèmica de pràctiques professionals
Dades de contacte
Biografia
Irina Ciornei was previously Marie-Sklodowska Curie Research Fellow at IBEI with the project "The missing pillar. European social policy and Eurosceptic challenges" (SOCIALEU) where she investigated the relationship between supranational social policy and Euroscepticism based on an original methodology that combines qualitative inquiry and experimental research.
Irina's work focuses on topics related to European politics, immigrant incorporation and public policy implementation.

Irina holds a PhD in Political Science from the Autonomous University of Barcelona. Previously, she was also Senior Research Fellow at the University of Bern. In her previous work she dealt with the transnationalisation of party politics, emigrant political participation and governance of morality policies. She published her work in the Journal of Common Market Studies, West European Politics and Party Politics.
Formació acadèmica
(2014) PhD, Universitat Autònoma de Barcelona
Premis
2022. The Gordon Smith and Vincent Wright Memorial Prize per l'article 'Political parties and Muslims in Europe: the regulation of Islam in public education' del qual és coautora. Enllaç
2019. MSCA Individual Fellowship
Recerca
Documents