Irina Ciornei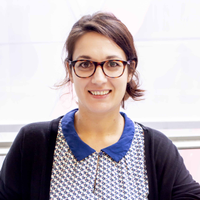 Investigadora Marie-Sklodowska Curie
Datos de contacto
Biografía
Irina Ciornei is Marie-Sklodowska Curie Research Fellow at IBEI with the project "The missing pillar. European social policy and Eurosceptic challenges" (SOCIALEU) where she investigates the relationship between supranational social policy and Euroscepticism based on an original methodology that combines qualitative inquiry and experimental research. Irina's work focuses on topics related to European politics, immigrant incorporation and public policy implementation.

Irina holds a PhD in Political Science from the Autonomous University of Barcelona. Previously she was Senior Research Fellow at the University of Bern. In her previous work she dealt with the transnationalisation of party politics, emigrant political participation and governance of morality policies. She published her work in the Journal of Common Market Studies, West European Politics and Party Politics.

Formación académica
(2014) PhD, Universitat Autònoma de Barcelona
Premios
2019. MSCA Individual Fellowship
Investigación
Líneas de investigación
Estudios de migración
Gobierno e implementación de políticas
Política europea y formulación de políticas
Proyectos de investigación
SOCIALEU-European social policy and eurosceptic challenges (2019-2021). MSCA-IF. PI: Irina Ciornei

Religion  and morality  policy – An analysis of  the  influence  of religious groups during the implementation stage (2017-2020). Funded by the Swiss National Science Foundation (SNF) and the German Science Foundation (DFG). PI University of Bern: Christian Joppke; Irina Ciornei. PI LMU Munich: Christoph Knill, Eva-Marie Euchner.
Publicaciones más destacadas
2020.

Transnational turnout. Determinants of emigrant voting in home country elections.

Political Geography,

Vol. 78, April

Enlace

2019.

Why do parties support emigrant voting rights?.

European Political Science Review,

11(3)

:

377-394

Enlace

2019.

Understanding Romanians' Cross-border Mobility in Europe: Movers, Stayers and Returnees.

In:

Recchi E. et al (eds)

.

Everyday Europe: Social Transnationalism in an Unsettled Continent.

Polity Press

,

pp: 195-225.

2019.

Political parties and the transnational mobilization of the emigrant vote.

West European Politics,

42(3)

:

618-644

Enlace

2019.

Explaining Solidarity in the European Union.

In:

Ettore Recchi, Díez Medrano, Mike Savage et al

.

Everyday Europe: Cross-border Lives in Europe.

London:

Policy Press

.

Enlace

2018.

Solidaridad europea y crisis financiera.

In:

Mariano Torcal (ed)

.

Opinion publica y cambio electoral en España.

Centro de Investigaciones Sociologicas (CIS)

,

pp: 59-75.

2017.

Making the absent present: political parties and emigrant issues in country of origin parliaments.

Party Politics,

online first, March 2017

Enlace

2017.

The sources of European solidarity? Assessing the effects of cross-border practices and political attitudes.

Journal of Common Market Studies,

55(3)

:

468-485

Enlace

2016.

European mobility and local political incorporation.

Migration Studies,

4 (1)

:

38-58

Enlace

2014.

The political candidacy of EU migrants in their countries of residence. The case of British and Romanians standing in Spanish local elections.

Journal of Ethnic and Migration Studies,

40(9)

:

1375-1393

Enlace

2012.

The political incorporation of immigrant associations and religious organizations of the Romanian immigrants in Spain.

Studia Sociologia,

57(2)

:

51-76

Enlace
Todas las publicaciones
Documentos