Libby Maman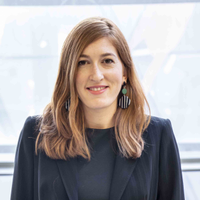 Investigadora predoctoral, TiGRE project, H2020
PhD candidate in the Hebrew University of Jerusalem
Datos de contacto
Biografía
Libby Maman is a Ph.D. Candidate at the Federmann School of Public Policy and Government at The Hebrew University of Jerusalem (supervised by David Levi-Faur). Her thesis addresses the challenges of administrative governance in democratic setting and in her Ph.D., she offers to measure and theorize various procedures that professional and autonomous administrations implement to enhance democracy; namely transparency, accountability and participation.
Currently, Libby is involved in the Horizon 2020 funded project: Trust in Governance and Regulation in Europe (TiGRE) and is a predoctoral researcher in IBEI. In addition, she is a researcher in the Israeli Democracy Institute working on a project on Trust and Regulation.
Before starting her academic career, Libby has worked in the Israeli public service. She held a high-ranking position in the Ministry of Culture and Sports, in addition to other positions in the Ministry of Health, the Ministry of Foreign Affairs, the Ministry of Religious Services and the Jerusalem Development Authority.
Premios
2021. 

Routledge Prize for Best Paper - Post-Graduate Student

2019. 

Honorable Mention, Best Paper Award in the 15th International Graduate Conference.

2018-2021. 

President of the State of Israel – Scholarship for Excellence and Innovation in Science.

2018. 

The Federmann School of Public Policy and Government, The Hebrew University – Annual Honors Scholarship.

2013. 

David Diego Ladowski Award of Excellence.
Afiliaciones profesionales
DemocracyNet.eu

ECPR Standing Group on Regulatory 

Regulation and Governance Network in Israel
Investigación
Líneas de investigación
Política burocrática
Administración Pública
Regulación
Gobernanza democrática
Proyectos de investigación
Publicaciones más destacadas
Documentos