Fathallah Sijilmassi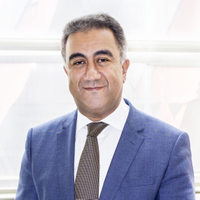 Director General of the African Union Commission
Datos de contacto
Biografía
Born on August 21st, 1966 in Rabat (Morocco), Ambassador Fathallah Sijilmassi is an economist and a career diplomat.  
After having worked at the « Banque Commerciale du Maroc » (currently Attijariwafabank) in Milan (Italy) from 1989 to 1992 and then at the Moroccan Foreign Trade Ministry from 1992 to 1999, he held, at the Moroccan Ministry for Foreign Affairs, several senior level positions : Director of Multilateral Cooperation (1999-2001) and Director of European Affairs (2001-2003).
In 2003, he was appointed by His Majesty the King of Morocco as Ambassador to the European Union in Brussels (2003-2004), then to France (2005-2009). 
From 2009 to 2012, he went back to Rabat (Morocco) and was appointed CEO of the newly created Moroccan Agency for the Investments Development (AMDI). During this period, many international companies and SMEs chose Morocco as their regional platform.
From 2012 to 2018, Fathallah Sijilmassi was Secretary General of the Union for the Mediterranean (UfM), an international organization, with headquarters in Barcelona (Spain), bringing together 43 countries of the Euro-Mediterranean region and whose vocation is to promote regional dialogue and cooperation.  
Throughout his career, Ambassador Sijilmassi gave several conferences in universities and think tanks in Europe, the Arab world, Africa and North America. He has published several opeds, articles and interviews in many European and Mediterranean medias (in English, Spanish, French and Arabic).
In October 2021, Fathallah Sijilmassi was appointed Director General of the African Union Commission.
F. Sijilmassi holds a Phd in International Economics from the University of Grenoble and is a graduate of the Institute of Political Studies of Grenoble.
Fathallah Sijilmassi was awarded several decorations:
Grand Officer of the Ordre National du Mérite and officer of the Légion d'Honneur (France)
Encomienda de numero of the Orden de Isabel la Católica (Spain)
Star of Merit (Palestine)
Fathallah Sijilmassi speaks fluently 4 languages: Arabic, French, English and Spanish.