Ana Ballesteros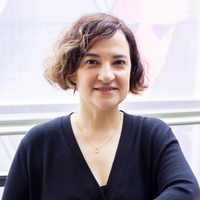 Senior Research Fellow, CIDOB
Dades de contacte
Biografia
Senior Research Fellow at the Barcelona Centre for International Affairs CIDOB. Ph.D. in Arab and Islamic Studies from Universidad Autónoma of Madrid (UAM). She took Ph.D. studies on Islam in South Asia at the School of International Studies of Jawaharlal Nehru University (2001/2002, New Delhi, India). She has worked for UAM's Foundation (pre-doctoral contract, 2008-2010) in a research project on sectarian and group violence based at the department of Social Psychology and Methodology (UAM). She has taught International Cooperation in Central and South Asia at the University of Castilla La-Mancha (2008-2013). She has also been part of the Conflict Studies and Peacebuilding group at the School for a Culture of Peace at the Universitat Autònoma of Barcelona (2014-2015). She is associate researcher at the Observatory of Politics and Elections in the Arab and Muslim World (OPEMAM), following Pakistan and Afghanistan. Her main areas of expertise are South Asia, Islamic sectarianism and sociology of religion. 
Recerca
Publicacions més destacades
2018.

Pakistán y el islamismo instrumental.

Política Exterior,

185, septiembre – octubre 2018

Enllaç

2016.

Pakistán, China y la estabilidad de Baluchistán.

Política Exterior,

nº 171, mayo - junio 2016

Enllaç

2016.

"Pakistán y Asia Meridional" en Terrorismo Internacional. Análisis de la radicalización y estrategias para la prevención.

Cuadernos del Centro Memorial de las Víctimas del Terrorismo,

nº 2, diciembre 2016

:

59-65

2016.

Pakistán: sin cambios en el horizonte.

Anuario Internacional CIDOB,

2016

:

188

Enllaç

2015.

Pakistán y Arabia Saudí: algo más que aliados.

Política Exterior,

nº 164, marzo – abril, 2015

Enllaç

2015.

The EU-Pakistan relationship. Looking beyond the trading partnership.

Análisis del Real Instituto Elcano,

ARI 26 / 2015, 14 mayo 2015

Enllaç

2013.

Pakistán: romper las inercias, reforzar el Estado.

Política Exterior,

julio-agosto 2013, Vol. XXVII (154)

:

116-125

Enllaç

2012.

España-Pakistán: interés tardío en la senda europea y bajo el influjo de EEUU..

Anuario Internacional CIDOB,

393-397

Enllaç

2011.

EEUU-Pakistán: el precio de una alianza.

Política Exterior,

2011.

Pakistán.

Madrid:

Síntesis. ISBN: 978-84-975673-1-2.
Documents