Valeria Bello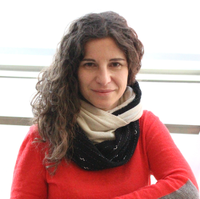 Associate Professor, Blanquerna-URL
Faculty of Communications and International Relations
Contact data
Biography
Valeria Bello is Associate Professor in Sociology at the Blanquerna Faculty of Communications and International Relations, University Ramón Llull, Barcelona, Spain. Previously she has been
Senior Research Fellow at the United Nations University Institute on Globalization, Culture and Mobility (UNU-GCM) and is the founding scientific coordinator of the UNU Migration Network, which she has coordinated from February 2014 until January 2016. She is a Political Sociologist who has taught and published in the fields of Sociology, International Relations and Political Science.
She is interested in the impact of cognitions and the intersection of cultural and socio-political elements on the development of social life. She mainly works at themes such as prejudice, racism, extremism and the securitization of migration. Her research interests concern the role of non-state actors in the area of migration and interethnic relations and in the fields of international relations and international and human security. She is also an expert of migration and climate change and its impact on socio-political and cultural conflicts.
Before joining UNU-GCM in December 2012, she was "Marie Curie" Intra-European Research Fellow at the Institut Barcelona d'Estudis Internacionals (Spain). She has also worked as assistant coordinator of the Jean Monnet Centre of Excellence of the University of Trento (2003-2009) and assistant professor at the University of Trento (Italy) from 2005 to 2009.
She is author of the book "Internation Migration and International Security. Why  Prejudice is a Global Security Threat" (Routledge, 2017). 
Since September 2017, Valeria Bello is Member of the Governing Council of the European International Studies Association.
Background and education
(2007) PhD in Sociology and Political Sociology, University of Florence (Italy)
(2002) MA in International Relations, Alma Mater University of Bologna (Italy)
(2001) BA in International Politics, L'Orientale University of Naples (Italy)
Awards
2009. Maire Curie Intra-European Fellowship
Professional memberships & affiliations
Global Migration Group of the United Nations

European International Studies Association

International Studies Association (ISA)

UNU Migration  Network
Research
Research interests
International Security
Interethnic Relations
Non-state actors
Prejudice
Selected publications
2018.

Places of welcome. How to turn difficulties into opportunities. Best practices in the inclusion of migrants.

Policy Brief 2018,

UNU-GCM

2017.

Interculturalism as a New Framework to reduce Prejudice in Times of Crisis in European Countries.

International Migration,

52(1)

:

23-28. Impact Factor: 1.04

2017.

Europe and the Mediterranean Crises: Trapped Between Prejudice and Solidarity.

UNU-GCM Policy Report Series,

04/01, Barcelona, Spain

2017.

Migraciones y Seguridad Humana. Un Nuevo Modelo Migratorio.

In: Anna Terron (ed.).

Sociedades Seguras.

Madrid:

CESEDEM, Spanish Ministry of Defense

.

2017.

Interculturalism in Times of Crisis.

International Migration (special section),

52(1)

:

5-67. Impact Factor: 1.04

2017.

Internation Migration and International Security. Why  Prejudice is a Global Security Threat.

New York and London:

Routledge.

Link

2016.

The Securitization of Migration in the EU. Debates Since 9/11.

Global Affairs,

Vol. 2(2)

:

233-234

2016.

Inclusiveness as Construction of Open Identity: How Social Relationships Affect Attitudes Towards Immigrants in European Societies.

Social Indicators Research,

126(1)

Link

2015.

One Concept for Different Roles? Private vs. Collective Interests in Nonstate Actors' Governance of Violence and Crime.

International Studies Review,

17(2)

Link

2014.

Virtual belongings, dual identities and cultural discomforts: The role of Mediaspaces and Technospaces in the integration of migrants.

Crossings: Journal of Migration and Culture,

5(2-3)

Link
Documents