Syllabus Full Time
The course syllabus presents an innovative structure, stimulating continuous learning, with highly-qualified teachers linked to the three universities that jointly offer the degree, the Universitat Autònoma de Barcelona, the Universitat de Barcelona and the Universitat Pompeu Fabra, as well as to other major international academic institutions.
The Master's in International Relations is offered in two different language options. The bilingual (Spanish-English) option, in which students follow approx. half the compulsory courses in each of the two languages, while they can choose from the whole range of electives in either in Spanish or English. The English-only option, in which all the compulsory courses are taught in English, including the pathway core courses. In this language track, students can also choose elective courses in Spanish, if they wish. The electives are offered to a large extend in English, however some will only be available in Spanish. More detailed information about the courses can be found on the website.
The Master's syllabus is made up of a combination of core subjects and a wide range of electives that reflect the students' individual interests. Building on knowledge acquired in the first semester, in the second semester students will take a pathway specialty and, in this way, build their education according to their individual interests within the different International Relations themes.
Pathway specialization is structured into three fields:
     Governance and Globalization
     Peace and Security
     Political Economy of Development
The Master's in International Relations programme includes three different types of courses and a final dissertation:
Core courses: 24 ECTS credits (depending on studies previously carried out, it may be possible to replace a core course with an equivalent or greater number of elective course credits)
Pathway core courses: 6 ECTS credits (subject to be chosen according to the pathway selected)
Electives: 20 ECTS credits
Final Dissertation: 10 ECTS credits  
Furthermore and with regard to these subjects, periodically throughout the year, the institute hosts conferences and seminars which are open to Master's students and lecturers. Specifically, there will be seminars with prominent professionals and politicians in the international sphere, allowing them to transmit their experience. There are also conferences, debates and presentations of recent research from scholars of national and international importance.
Syllabus (one-year, full-time option)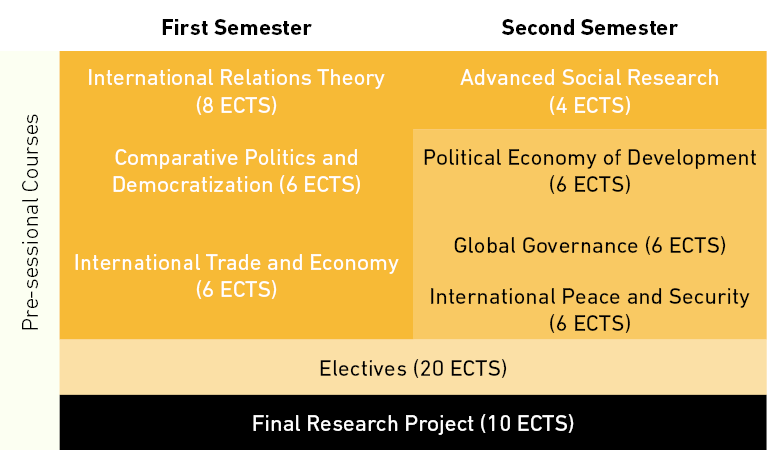 Here you can access the documents related to the master.